Reasonable accommodations will be made for special needs. Please contact:
NM Land Grant Council
Telephone: 505-400-9426
Email: nmlandgrantcouncil@unm.edu
lgc-meeting-title:
November 2021 Council meeting - in person and virtual
Date:
Wednesday, November 10, 2021 - 10:00am
lgc-meeting-address:
In Person meeting location
UNM Science and Technology Park - Executive Board Room
851 University Blvd. SE
Albuquerque, NM 87106
* parking available at 801 Bradbury Dr. SE - please email nmlandgrantcouncil@unm.edu for parking instructions and code
(UNM COVID safety protocols, including wearing of masks at all times for both vaccinated and unvaccinated individuals, will be observed).
-----------------------------
Virtual Meeting Call in information - Zoom Meeting
Dial by your location
        +1 346 248 7799 US (Houston)
        +1 669 900 6833 US (San Jose)
Meeting ID: 948 6530 7081
Zoom Meeting Link
https://unm.zoom.us/j/94865307081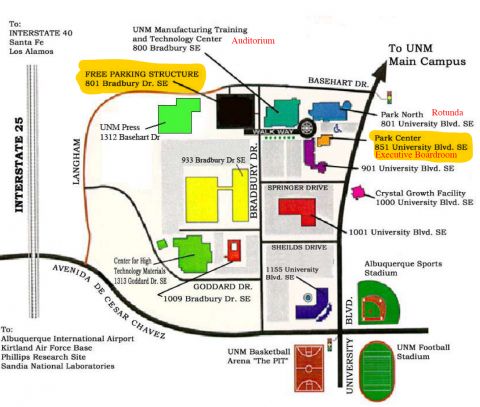 Location:
UNM Science and Technology Park
Zoom Meeting